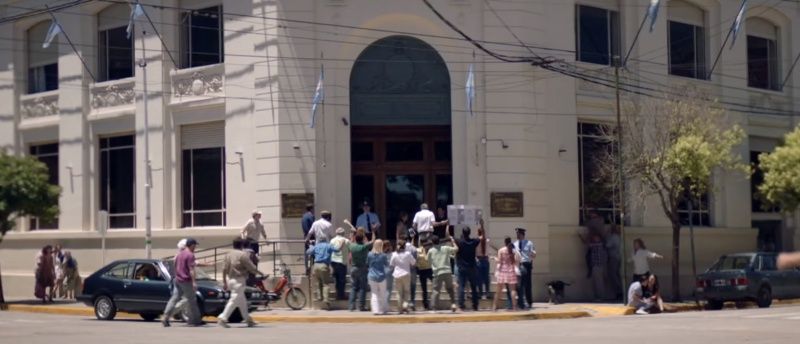 The economic crisis of 2001 has changed the 20th Century Argentine society after many people lost their life-long savings from banks, jobs and families. The collapse of the economic system still ties to people's daily life in Argentine society, as they still think of the past memories and how those relate to Argentina currently. On December 1st of 2001, President Fernando de La Rúa banned every person from processing bank transactions that were exceeding 250 US dollars weekly. On December 15th of 2001, IMF cancelled the credit of 1,200 million dollars loan to Argentina. Moreover, until January 6th of 2002, Argentine pesos lost 400% of the value. Initially during the 1990s, the dollar to peso ratio was around 1:1. It is obvious to see the economic collapse of 2001 had strongly impacted Argentine society. Many Argentines have lost their confidence in banks, political parties and promises of useful changes by candidates.
To analyze the economic crisis of 2001, a famous movie called La Odisea de Los Giles reflects many Argentines' experiences is a primary source that shows the collapse of banks in December of 2001, which is also referred to as "Corralito". The movie shows a story about families from Alsina, the Province of Buenos Aires wanting to start business early in the 2000s to bring more job opportunities in the town. Nevertheless, as a result of the "Corralito" in December of 2001, they lost all the money they saved in the bank. The movie was directed by Sebastián Borensztein and Eduardo Sancheri This movie is based on the novel "La noche de la usina" by Eduardo Sancheri. Ricardo Darín, Chino Darín, Verónica Llinás, Daniel Araoz and etc. were the leading actors in this movie. It was shown in theaters in August 2019 while Argentina was going through an economic recession under the Macri government with high inflation that year from 1:38 US dollars-Argentine pesos ratio to 1:63 at the end of 2019. The primary presidential election took place in September of 2019 when the movie became popular in the country. Many people took out money from their bank accounts and saved it at home in order to avoid the "Corralito" if the dollar-peso conversion went very bad. This movie made many Argentines think about the 2001 memories and the differences with the ongoing economic recession.
The name of the movie is translated as "The Heroic Losers" in English and reflects how Argentine middle and working class people suffered from the 2001 economic crisis in the country. In the movie, the protagonist Fermín Perlassi explained the meaning of "gil" in Argentine Spanish. "Un gil" means a person that is an honest person that works very hard as a "laburante" and comply with all the social norms. However, everything that a "gil" was doing did not pay back as expected, as if they were betrayed by the country. The plot ties directly to many people's experiences in 2001, as they lost all their savings in the bank and could not recover the money. Like many Argentines said, "the country robbed them." The banker who processed the transactions and the banker in the movie showed how some people took advantage of the law during that time to benefit from the exchange policy, as the lawyer used pesos to exchange dollars before the outbreak of crisis. The directors also made this part of a movie in a metaphorical way that the elites robbed and took advantage of those working and middle class people. Therefore, the protagonists started their revenge by saying that they could not bear with the system anymore. Then, they came up with a plan of "recovering things that were theirs" and defended themselves by saying that "we are not thieves." The movie presented the economic crisis of 2001 in a more fictional and ideal way. The directors also used a lot of analogies to show how the government and elites took advantage and robbed the "honest" people.
"La Odisea de los Giles" showed common stories of what happened to many families in 2001. Other movies like "Nueve Reinas" (Nine Queens) showed how the crisis caused almost a "civil war", as many scholars described. There are many real photos back in 2001 that showed how people suffered from the economic crisis when they protested in front of banks, breaking ATMs and robbing groceries. As many Argentines agree, the economic crisis of 2001 was not just a recession, but also a collapse of economic policies and banks. 
Bibliography
Arcadia, Pablo. La Odisea de los Giles (Heroic Losers)–Reseña y crítica del film. 2019; Buenos Aires, Argentina: Protocultura Nerd. Youtube. https://youtu.be/Hdl4XgOEQJI.
Borensztein, Sebastián, dir. La Odisea de los Giles. 2019; Buenos Aires, Argentina: Warner Bros Pictures Argentina. Youtube. https://www.youtube.com/watch?v=ZP_o6GQaFW8
Dólar hoy: a cuánto cerró el dólar en Banco Nación y todas las entidades el 30 de diciembre. December 30, 2019. La Nación. https://www.lanacion.com.ar/economia/dolar/dolar-hoy-a-cuanto-cerro-el-dolar-en-banco-nacion-y-todas-las-entidades-el-30-d-nid2319888
Cué, Carlos E. Crisis economica: Argentina se aleja de fantasma de 2001. December 15, 2016. El País. https://elpais.com/internacional/2016/12/13/argentina/1481655800_716012.html.

A los 15 años de la crisis de 2001. 2016, Accessed Feb 12, 2020. El País. https://elpais.com/especiales/2016/crisis-2001-argentina/
Bianchi, Walter; Bronstein, Hugh & Garrison, Cassandra. Ghosts of 2002 'corralito' spur Argentines to shun banks, stash cash at home. Aug 23, 2019. Reuters. https://www.reuters.com/article/us-argentina-deposits/ghosts-of-2002-corralito-spur-argentines-to-shun-banks-stash-cash-at-home-idUSKCN1VD27N
Sigal, Lucila. Filme "La Odisea de los Giles" reivindica argentinos estafados en crisis del 2001. Aug 15, 2019. Reuters. https://ar.reuters.com/article/idARL2N25A0NF.