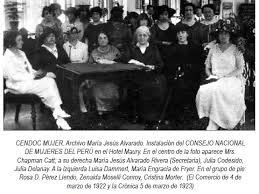 Though Peru was the second-to-last South American country to allow women to vote in 1955, various prominent feminists and suffragettes brought attention to gender equality. One notable feminist is María Jesús Alvarado Rivera, pictured in the photograph alongside other women who joined the fight for gender equality and women's suffrage.
Alvarado Rivera was born in 1878 to a large family who settled in Lima. She soon developed a love for learning and shortly became a teacher, though, with her brother's help, she also landed a position at the age of 20 as a columnist for El Comercio and El Diario. Through her article writing, she would soon begin to utilize this platform and her talent for writing to debate controversial topics, such as questioning marriage after her parents arranged a marriage for her (Jiménez).
When she was not writing or teaching, Alvarado Rivera was always organizing and campaigning for her beliefs. In the 1910s, she attended and worked in numerous conferences to spread the idea of feminism and gender equality, as well as working with organizations focused on indigenous rights to ensure their voices were also contributed. In 1914, Alvarado Rivera founded the "Evolución Feminina," a milestone in feminist history for Peru as it was the only feminist organization at the time. In 1915 she also founded the "Escuela Taller Moral y Trabajo," where she taught women various skills kept from women in her home's privacy. Alongside other Peruvian feminist women, these organizations primarily fought for women's right to education and political rights.
During a visit from American feminist leader Carrie Chapman Catt in 1923 (as shown in the photo), Alvarado Rivera also created the "National Council of Women of Peru," which primarily focused on fighting for women's suffrage. Though some Peruvian feminists shared this idea, the group faced divisions regarding what women deserve the right to vote. Her involvement and vocalization of her support for women's rights led Alvarado Rivera to be jailed and exiled from Peru.
After spending time in jail, Alvarado Rivera spent her time exiled in Argentina by teaching students about social and moral issues in society. After twelve years, she returned to Peru to continue voicing her support for women's rights through writings and her radio show "Ante la Vida." She also continued her role in "Evolución Feminina" to bring issues to the Peruvian Congress, leading her to be appointed as Councilor of the Municipality of Lima.
On May 6th, 1971, Alvarado Rivera passed away, being recognized as a legacy in Peru. Though her feminist movement was not as widely accepted as more modern movements, her work continues to be appreciated and admired by women and feminists across Latin America.
Works Cited
Iida, Kate. "'To the Workers of the Republic:' Maria Jesus Alvarado Rivera, Dora Mayer de Zulen, and the Intersection of Indigenous, Labor, and Feminist Activisms, 1909-1925." Thesis, Columbia University, 2019.
Jiménez, Carla. "Maria Jesús Alvarado Rivera: Una Feminista a Ultranza." Centro de la Mujer Peruana Flora Tristan. Accessed March 5, 2021.  http://www.flora.org.pe/web2/index.php?option=com_content&view=article&id=389:maria-jesus-alvarado-rivera-una-feminista-a-ultranza&catid=54:estudio-y-debate-feminista&Itemid=70.
"María Jesús Alvarado, Precursora Del Feminismo En Perú." Accessed March 5, 2021.  https://www.cddperu.org/en/node/490.


This work is licensed under a Creative Commons Attribution-NonCommercial-ShareAlike 4.0 International License.