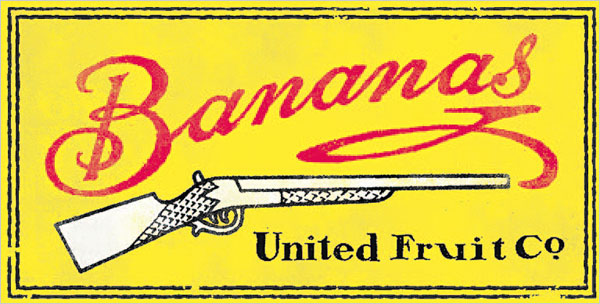 The United Fruit Company built its empire across Central America; in Honduras, Panama, Nicaragua, El Salvador, Costa Rica, and Guatemala. The United Fruit Company (UFCO) was an American company in the business of bananas, and they even got the United States government to promote bananas in the diet of Americans.
Under dictator Jorge Ubico, Guatemala became known to be a "banana republic," a derogatory name for a poor, developing country that relies on one export for their economy, such as bananas.
Ubico was known not to work for the economic interests of everyday Guatemalans. The UFCO owned 42% of all of Guatemala's land. The UFCO owned and monopolized not only the banana industry, it also owned and privatized the telegraph and telephone system and most of the railroads.
Ubico was forced out of office, after 13 years of his dictatorship, following the Guatemalan Revolution of 1944. A new constitution was adopted, taking inspiration from the United States Constitution. Guatemala held its first truly democratic election in all of its history, and Dr. Juan Jose Arévalo was elected as president of Guatemala. Arévalo was then succeed by Colonel Jacobo Arbenz in 1951, in another democratic election. Arbenz, with the intention of increasing political participation and giving all citizens a voice, allowed Communists (about 4,000 in the country) to participate in electoral politics. Despite such a small number of communists in a country of 3 million people, the United States government was not happy with this decision by Arbenz in the midst of the Cold War and so close to home.
The last straw for the United States was Decree 900, a proposal by Arbenz to redistribute the undeveloped, privately owned land of the wealthy, to the 90% of Guatemalans who were farmers without land. A year into his presidency, Arbenz expropriated 225,000 acres of land, paying the land owners for this land, and redistributing it to landless and rural farmers.
This expropriation by Arbenz's adminstration made the UFCO unhappy. Arbenz's administration seized 40% of their land for less than what they wanted. Though they were compensated by that year's tax assesment's value, they wanted to be compensated for the market value.
This led the politically powerful UFCO to lead a Guatemalan anti-communist propoganda campaign in the U.S. media. The Eisenhower adminstration felt conflicted. Though they were alarmed by Arbenz's actions, he vowed as president that he would reduce military spending, and he didn't want to make the west look weak by attacking a Western ally.
Instead of directly intervening, Eisenhower used the newly founded CIA to overthrow Arbenz. The CIA was created in part for spying on world leaders. "Operation PBSUCCESS" was the name of the mission to overthrow Arbenz. The CIA enlisted anti-Arbenz military leader, Carlos Castillo Armas. Armas was a member of the National Liberation Movement party, a right wing party in Guatemala. On June 17th 1954, Armas led a coup d'état against Arbenz with the help of just 150 soldiers, alongside the United States and the CIA. The CIA was able to jam local radio stations with their propaganda messages. American pilots bombed Guatemala City. The CIA installed spies within the Guatemalan government and military, giving Arbenz and his supporters no chance of success.
Arbenz had the impression that the United States was an ally who would protect him and the country during this attack, so he turned to them for help, not knowing that they orchestrated the entire thing. Ten days later, Arbenz resgined from his presidency and he fled Guatemala. Arbenz was then replaced by Armas by the CIA, and he was called a "liberator."
This is an important historical event and important to our learning about Modern Latin America, because coups have been a large part of the history of many Latin American countries and help explain the distrust that many governments have for the United States. Moreover, the failure of these governments and initiatives are often blamed on the governments of Latin America, when they are seldom given the chance to succeed before there is intervention in the name of stopping communism, or today- socialism.
Primary Source:
"Operation PBSUCCESS: The United States and Guatemala, 1952- 1954", CIA History Staff document by Nicholas Cullather, 1994. Excerpt.
Works Cited:
Amnesty International, BBC, Britannica, The Commission for Historical Clarification ("Guatemala Memory of Silence" report), Consortiumnews.com, Global security.com,The National Security Archive, Nations Encyclopedia, The New York Times
Kurtz-phelan, Daniel. "Big Fruit." The New York Times. The New York Times, March 2, 2008. https://www.nytimes.com/2008/03/02/books/review/Kurtz-Phelan-t.html.
La Feber, Walter. America, Russia, and the Cold War, 1945-1996. 8th ed. America in Crisis. New York: McGraw-Hill Companies, Inc., 1997. 152, 157-159,

This work is licensed under a Creative Commons Attribution-NonCommercial-ShareAlike 4.0 International License.